Northampton fountain: Bacteria control work continues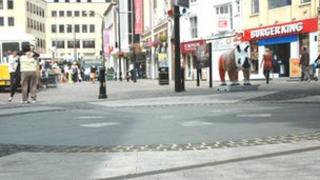 Experts are still working on a fountain turned off in Northamptonshire when traces of dangerous bacteria were found in the water.
The fountain, in Northampton's market square, was switched off after low levels of legionella were found.
Experts were brought in to find ways to prevent it becoming infected in future.
The borough council said the fountain, normally switched off in the winter, will stay off until the experts are sure the infection can be controlled.
David Mackintosh, leader of Northampton Borough Council, said: "The fountain is an attractive feature of the town centre and we would like to turn it back on as soon as possible.
"Before that can happen, we need to be sure that the risk of low level contamination to the water is as controlled as possible and has been achieved in the most cost-effective way.
"We are still working with experts to find an affordable way to ensure the fountain's long-term operation and we hope to reach a solution soon."