Diabetic man says dialysis room is 'not a spare bedroom'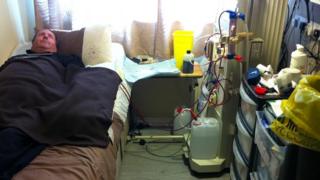 A man who uses a room of his house for daily dialysis treatment says the government's changes to housing benefits are unfair.
Stephen Smith, who has diabetes, spends about five hours a day receiving treatment in the adapted bedroom of the Daventry home he shares with his wife.
He said he was about £50 a month worse off in benefits because the room was now considered an unused bedroom.
Daventry District Council said Mr Smith could apply for extra support.
Tony Gillet, the authority's resources manager, said: "All local authorities have a Discretionary Housing Payment annual grant to top-up housing benefit, which is awarded on a case-by-case basis.
"The grant is awarded by the government and is limited, so due to high demand following the benefit changes it is likely that all the funding will be used up before the end of the financial year."
'Special flooring'
Changes to housing benefit affecting working-age social housing tenants deemed to have spare bedrooms came into effect on 1 April.
It meant a 14% cut for tenants with one extra room and 25% for those with two or more.
Mr Smith, who is also blind, said he will lose about £13 a week.
"It's a lot of money," he said. "We can't afford to pay, with all the other things I have to have."
Mr Smith said it was "crazy" that the room was considered a spare bedroom.
"It's definitely a medical room," he said. "We've got special flooring."
He said he had spoken with the council about the issue but had not received any support.
"Nobody has come and had a look, which would have been a common sense thing for them to do."