Car clone criminals cause Corby man concern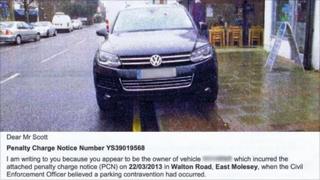 A driver has told of his surprise to receive a parking ticket from Surrey, as he was in a meeting 100 miles (160km) away at the time of its issue.
Bob Scott, from Corby, received the £70 penalty notice from Elmbridge council for parking on double yellow lines.
A photo showed his number plate had been cloned and used on another car.
Although the penalty has been withdrawn Mr Scott is unhappy about the way his fears that it could happen again have been dealt with.
"The photographic evidence shows a black VW with my registration number, but I actually have a crystal blue Jaguar," he said.
'I was appalled'
Mr Scott said when he raised his concerns about whether he could fall victim to the same crime again, the council advised him to follow it up with the police, who passed him on to the DVLA, who in turn told him to speak to the police.
"I was appalled," he said. "I had been the subject of having my number plate cloned, which was clearly a criminal offence."
Northamptonshire Police said there had been more than 560 thefts of number plates in the county, as well as instances of them being cloned, since February 2012, compared to 464 cases of theft in the year before.
A spokesman for the DVLA said: "If a motorist believes their vehicle has been cloned they should contact the police, so the police can trace and prosecute the person using the identity of their vehicle and prevent any further illegal activity.
"They should also write to us so we can issue a letter to them to pass to the issuing authorities to help to discharge them of liability to the fines."