Northamptonshire victims' commissioner cost concern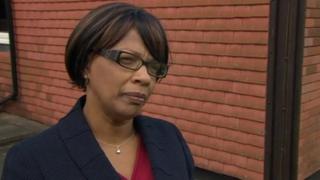 A Northamptonshire "victims' commissioner" earning the equivalent of £400-a-day will make a "limited contribution", a police federation has claimed.
Angela Sarkis is to lead an inquiry into victims' experience of the justice system in what is thought to be the first role of its kind.
Northamptonshire Police Federation said it was "concerned at the cost".
The force said the role would give victims of crime a "better deal".
A spokesman for the federation, which represents 1,200 officers, said the appointment had the potential to "redress" the issue of victims often being an "unheard voice within the criminal justice system".
"In welcoming the appointment we are concerned at the cost of the appointment, given the austerity measures facing the public service, and the limited contribution an appointment of a few days per month would make," said the spokesman.
"Furthermore, we would seek assurances from the commissioner that the appointment underwent an open and transparent recruitment process and that an evidenced-based review of the role will take place."
'Suitable calibre'
Peter Heaton, speaking on behalf of Northamptonshire police, said: "Angela Sarkis was selected from a very short list of people of a suitable calibre.
"The whole role is about getting evidence to give victims of crime a better deal."
Ms Sarkis is being employed in the role until September and is then due to report to Northamptonshire Police and Crime Commissioner Adam Simmonds on any improvements that could be made.
The total cost of the position, including office and setting up costs will be £25,000.
Ms Sarkis, who work three to four days a month, will earn between £8,000 to £10,00 and be employed until September.
Ms Sarkis has worked with the YMCA, the Church Urban Fund and as a BBC governor.