Mother's pride over posthumous VC for soldier James Ashworth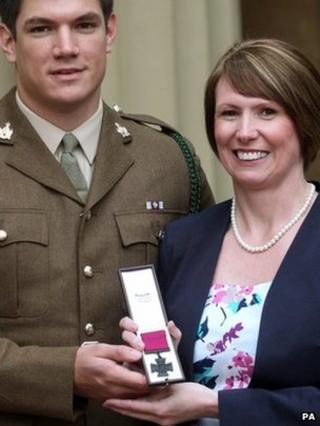 The mother of an "inspiring" soldier who was killed in Afghanistan has spoken of her pride after accepting his posthumous Victoria Cross.
L/Cpl James Ashworth, 23, from Corby, Northamptonshire, died under enemy fire as he tried to eliminate an insurgent position in Afghanistan in June.
Kerry Ashworth, 44, said there were "no words that can describe the feeling" after receiving the VC from the Queen.
The private ceremony took place in Buckingham Palace.
Mrs Ashworth, also of Corby, said: "There are no words that can describe how you feel when you are told that your son is the bravest of the brave."
'Never forgotten'
She said when the Queen had left the room after awarding the VC, the "tears just came".
"I thought it was such an honour for us today as a family, for his friends and for his girlfriend," she said.
"For us to receive this is a recognition of the really hard job that he did over there.
"James has gone but he will never be forgotten, he is part of the regimental history, he is part of history. He will never, ever be forgotten and his memory will go on forever."
L/Cpl Ashworth died on 13 June after crawling along ground that was being peppered with bullets to throw his last grenade at a sniper who had his team pinned down.
The citation for his VC said: "Despite the ferocity of the insurgent's resistance, Ashworth refused to be beaten.
"His total disregard for his own safety in ensuring that the last grenade was posted accurately was the gallant last action of a soldier who had willingly placed himself in the line of fire on numerous occasions earlier in the attack.
"This supremely courageous and inspiring action deserves the highest recognition."
The award - the country's highest award for bravery in the face of enemy attack - is only the second VC to be awarded to a soldier from the UK from the 12-year conflict in Afghanistan.
The VC was also awarded to Corporal Bryan Budd of 3 Para, who died fighting the Taliban in 2006.
The Victoria Cross was created on 29 January 1856 and is handmade from bronze cannon captured from the Russians at the siege of Sevastopol in 1854-55 during the Crimean War.