Northampton's St Edmund's Hospital 'should retain listed status'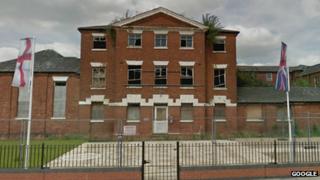 A derelict Northampton hospital should retain its listed status despite claims of flaws in its original grading, it has been recommended to planners.
A bid to remove St Edmund's Hospital's Grade II listing was received after new evidence suggested its modern extension should have made the grading void.
A report also claimed it was built in a different year and designed by one famous architect rather than two.
But borough council planners believe it still has "historic merit".
The Wellingborough Road site, which has been earmarked for development, was designed by Sir George Gilbert Scott when built as a workhouse in the 19th Century.
However, a new report given to English Heritage by an unnamed source claimed his partner William Moffatt was not involved in its design and that the building is of "little architectural merit".
'Visual landmark'
It added that much of the original building has been lost or altered and there was "little evidence of innovation in the design of the building".
But despite the claims being shown to Northampton Borough Council by English Heritage, planners are still recommended to keep the ex-hospital's listed status.
A council document stated it still "retains significance" in a national and local context, with it being a visual landmark and having links with the boot and shoe industry.
It added the building had been "subject to significant neglect" in recent years, but "this cannot be taken into account in an assessment of its significance".
The proposals go before the planning committee on 11 June. The final decision will be made by the Secretary of State for Communities and Local Government.
Property developer Rochmills had sold the site to Cypriot company Kayalef Holdings.