Murder accused claims partner 'impaled herself'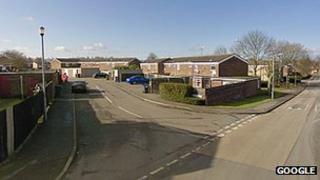 A man accused of murdering his partner in Northamptonshire claims she impaled herself when they both slipped on a mat, a court has heard.
Errol Anglin, 47, denies stabbing Christine Haye-Levy, 36, at her home at Jervis Close, Daventry.
Northampton Crown Court heard she escaped through a window and was found collapsed nearby in Grenville Close.
Ms Haye-Levy had sustained several stab wounds and died in hospital on 11 December, the court heard.
'Deliberately armed'
The court heard that Mr Anglin thought he had picked up a wooden spoon.
Matthew Lowe, prosecuting, said: "He said they slipped on the mat, he said she impaled herself on it and that she said, 'You've stabbed me you bloody fool'.
"The prosecution say he deliberately armed himself with a knife during the course of an argument."
Ms Haye-Levy had been stabbed several times and suffered deep wounds to many parts of her body, two of them to her chest, the court was told.
Mr Lowe added that the defendant had asked the police to arrest him and said he was sorry.
The trial continues.