Flowers for The Queen's Coronation mowed in Northampton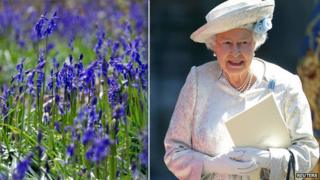 Council contractors have apologised after mowing down 600 bluebells planted in honour of The Queen.
Visitors to Dallington Park in Northampton paid for the £400 Field of Glory display.
The display, which took two days to plant, was meant to mark this week's 60th anniversary of the Queen's Coronation.
But workers for Enterprise - employed by Northampton Borough Council - mowed the area before the flowers bloomed.
Mike Hallam, cabinet member for the environment at the Conservative-led council, said: "Our contractor, Enterprise Managed Services, mistakenly mowed down some young bluebells that had not yet bloomed.
"When this mistake came to light, Enterprise Managed Services wrote to The Friends of Dallington Park (which organised the display) to apologise and they have promised to monitor the bluebells to ensure they are growing well and bloom next year."