Corby David Ross murder: CCTV man 'went to shop'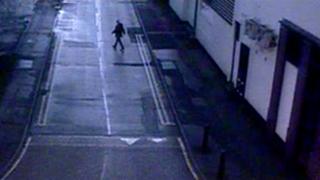 A man pictured on street CCTV close to where a nightclub owner was found dead is believed to have visited a nearby shop, police have said.
David Ross, 39, was found beaten to death in the Village Express hotel in The Jamb, Corby, on 17 December.
Police have previously said the man was seen in Chapel Lane that morning and got into a Vauxhall Insignia.
They are keen to hear from people in The Jamb on 17 December and women who spoke to Mr Ross as part of his job.
It is now believed the man on CCTV had visited The Chocolate Shop, a newsagent on The Jamb, before walking to the Chapel Lane car park, getting into the car and driving along Rockingham Road.
'Private person'
Det Insp Martin Kinchin said: "We have gathered a lot of information regarding the last movements of Mr Ross and now have a much better idea of the circumstances that led to his death.
"While Les was quite a private person, we now know he sometimes confided in friends and as a popular man in the in the nightclub arena he spent a lot of time talking with women.
"On the weekend he died he would have spoken to hundreds of people and we are still keen to hear from anybody who spoke to him, particularly women who he often spent longer talking to.
"We also believe this man entered the Chocolate Shop [a newsagent] in The Jamb at around 07:40 BST on the day of the murder.
"We would also like to hear from anyone who was waiting at the bus stop in The Jamb at that time of the morning."
A 39-year-old man from Corby has been arrested and bailed on suspicion of murder.
Mr Ross had opened Rubix nightclub in Corporation Street, Corby, in the weeks before his death.