Peking to Paris Rally death: Emma Wilkinson 'lovable' person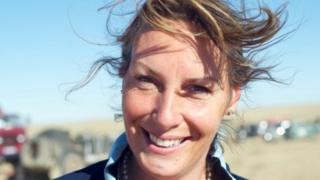 A British woman killed during a vintage car rally in Siberia was a "lovable" person, her father has said.
Emma Wilkinson, 46, from Brigstock, Northamptonshire, died when a car hit her Chevrolet during the Peking to Paris Rally on Wednesday near Tyumen.
John Wilkinson, who lives in Desborough with Emma's mother Pamela, said: "She was a very lovable person. She would help anybody."
A man and a baby were also killed and a woman is in hospital after the crash.
Russian police said they were investigating the incident.
Ms Wilkinson had been driving from Omsk to Tyumen on a federal highway and was travelling with her partner and co-driver Peter Davies when the crash happened, the Endurance Rally Association said.
The couple were driving to the next checkpoint in the rally at the time of the crash but were not taking part in a time trial, a spokeswoman said.
'Keen to get involved'
Ms Wilkinson's brother Mark, who had also been taking part in the rally with their sibling Robert, said it was the first time his sister had driven in a rally event and they decided to do it "just for the fun of it and the camaraderie".
He said: "It was a once-in-a-lifetime opportunity for her.
"She'd never done anything like it before and was keen to get involved when she saw Robert and I involved.
"They got across Mongolia and the difficult parts of the challenge. She just didn't have her guardian angel on the day."
The retired Virgin stewardess leaves behind a son and a daughter. Her partner Peter was uninjured in the crash.
Officers believe the driver of the Volkswagen Polo may have fallen asleep at the wheel moments before careering across the road into the path of the oncoming Chevrolet, as there were no skid marks and traffic was very light.
The BBC's Moscow correspondent, Daniel Sandford, said the long and poorly maintained stretch of road was notorious for car accidents and was described locally as "the road of death".
The Peking (Beijing) to Paris Rally is said to be one of the toughest vintage car races in the world, covering 7,000 miles (11,000km).