Isham bypass campaigners to lobby MP Peter Bone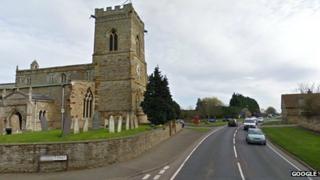 Villagers seeking a bypass are to lobby an MP by the side of their main road to show him the extent of their woes.
People in Isham, Northamptonshire, will meet Peter Bone and Wellingborough Council's leader on Friday to show them the level of traffic they experience.
The county council gave planning consent for a bypass in 2006, but it received no government backing.
Resident Graham Rait said: "For residents, it feels like we're living on a motorway."
He added: "There are more than 23,000 vehicles coming through the village each working day, and with new houses being built or proposed to be built nearby, this will only increase unless the bypass is in place.
"People living adjacent to the road [A509] can't be in their gardens or leave their windows open because of the noise, pollution, and tremors caused by the vehicles, especially the 3,000-plus articulated lorries that come through here every day."
Wellingborough Council leader Paul Bell said: "I am 100% behind the campaigners and will continue to put pressure on the government to release the money to allow the project to go ahead."
Last year planning permission was extended for a further 10 years in the hope of the bypass gaining funding.