Northampton alcohol curfew is rejected by councillors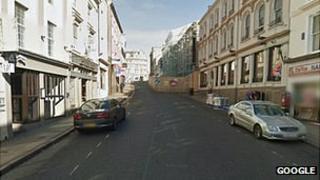 Police plans to impose a ban on early hours alcohol sales in Northampton have been blocked by the town's borough council.
An increase in crime between 03:00 and 06:00 BST was the reason behind the call for an Early Morning Restriction Order (EMRO).
Alcohol would have been banned in the town centre between those times within an allocated "leisure zone".
But the borough council's licensing committee voted against the scheme.
Chief constable Adrian Lee said: "We are disappointed with this decision as we believed that an EMRO would have been an effective tool in reducing alcohol-related crime and anti-social behaviour."
People opposing the proposal said the restriction would have had a negative impact on the town and made people look elsewhere for nightlife.
Licensing laws changed in 2005, meaning some venues in the town can stay open until 06:00.