Corby regeneration projects management condemned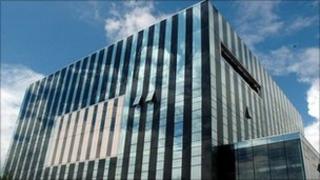 Management of regeneration programmes at a council in Northamptonshire has been condemned by consultants appointed by the Audit Commission.
The report into Corby Borough Council highlights flaws in financial and project management of four projects.
These are the Cube civic offices, Kingswood estate, Rockingham Triangle sports complex and St James land sale.
The Labour administration said failures were "unacceptable". The Conservative opposition called for a public apology.
The three construction projects cost £67m over six years and the land sale settlement brought in £3.8m.
Public 'let down'
Consultants KPMG said arrangements obscured who should make key decisions, oversight at critical points was insufficient, project and financial management was poor.
Land at St James was sold for considerably less than the best price.
KPMG concluded the council may have breached its statutory obligations.
Corby council leader Tom Beattie, said: "The failures that have been identified in this report are unacceptable.
"The people of Corby have been let down but they can be assured that these failings are a thing of the past.
"When these projects were undertaken there was clearly a lack of oversight by elected members, weak project management and a culture in which officers were fearful of questioning or drawing attention to practices which fall well short of the standards our residents expect of Corby Council.
"These issues are all being addressed."
'Squandering millions'
Conservative councillor Robert McKellar has written to Mr Beattie expressing disappointment by his refusal to take direct responsibility "for the four financial scandals".
"Simply shrugging your shoulders and attempting to wash your hands of responsibility is totally unacceptable and frankly the taxpayers of Corby deserve better," he wrote.
"We demand that you acknowledge the collective responsibility of the Labour administration for the four scandals at Corby Borough Council and for the squandering of millions of pounds in taxpayers' money.
"The public deserve an apology."
The Conservatives further proposed a motion of no confidence in Mark Pengelly, the Labour councillor responsible for finance, accusing him of being involved with the mismanagement of the four key projects.
Mr Pengelly has told the BBC he has stepped down from this responsibility but said it was because of pressure of work rather than the demand by the opposition.
Mr Beattie added: "We will fully consider the report and its recommendations in open session at the next full council meeting."