Desborough skatepark to close after safety inspection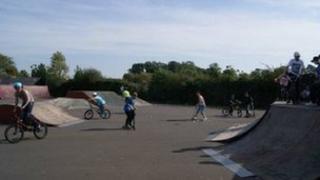 Trustees at a skatepark have been told by the local council that it must be closed immediately on safety grounds.
Kettering Borough Council said it had locked the park's gates following an inspection by the Royal Society for the Prevention of Accidents.
The report said users were in "imminent and immediate danger" if they used the equipment, which was first installed in 1999, but had fallen into disrepair.
The trustees said repairs were about to take place.
The skatepark is on the site of the former Hawthorns Leisure Centre, which closed last year and was demolished.
One of the skatepark's users, Connor Smith, 15, said: "It's not in a good state, but we can ride it and that's all that matters really.
"[If we didn't get a skatepark back] it would be devastation, because at the New Grange Leisure Centre the ramps aren't as big and they're made for scooters, not BMXs."
'Absolute shock'
The Desborough skatepark was built by community trustees, using lottery money, on land leased by the council.
The council sent a letter to the group this week, telling them it would be closed immediately and demolished on Friday.
Belinda Humfrey, one of the trustees and chairperson of Desborough Youth Action Group, said: "The letter from the council was an absolute shock, but we think they have another agenda because they want to build housing.
"The skatepark isn't on its last legs as far as we're concerned - it's just surface wear-and-tear which we would spend a couple of thousand pounds a year on anyway."
The council said it had repeatedly written to the trustees asking them to repair the ramps before the current lease ended in September.
Councillor Jan Smith, portfolio holder for community, said: "The skatepark is dangerous and it's being closed for the safety of the children.
"My children used to use it, but, while some repairs have been done, the ramps have got holes in and the borough had no choice but to take it back into its ownership.
"I'm not aware of any plans to build housing on this site."
The skatepark's trustees said they would be in touch with council officers to try and keep it open.