Roman villa site's Saxon remains to be reinterred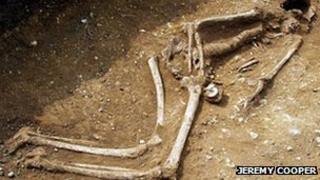 The remains of eight people from the early middle ages found at the site of a Roman villa are to be reinterred.
The skeletons - three men, a woman, three adolescents and a baby - were unearthed at Whitehall Farm, in Nether Heyford, Northamptonshire.
They were found as part of an archaeological project which has been ongoing for a number of years at the site.
Landowner Nick Adams said there would be a simple ceremony for reburial.
Testing of the bones has revealed two of the male bodies date from the fifth century and the third from the seventh.
"It is very unusual to find skeletons from the fifth century," said Mr Adams. "All three were buried with spears, swords and knives, so they were probably high status people.
"We think they were Germanic in origin, possibly hired thugs."
The woman was buried with jewellery, a tasting fork and a metal buckle. She, it is thought, could be French.
"We can't recreate the ceremony that took place when they were originally buried," said Mr Adams. "So it will be fairly simple in a field about 160ft (50m) away."