Dr Martens predicts profits of £30m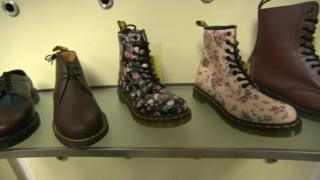 An iconic British footwear firm on the verge of bankruptcy a decade ago is forecasting profits of £30m this year.
Dr Martens products have been made by the R Griggs Group in Wollaston, Northamptonshire, since 1960.
The footwear of choice among youth subcultures from the 1970s to the 90s, their products have enjoyed a revival in popularity in recent years.
Their boots, shoes and accessories are now sold in 63 countries, although 80% of production is outside the UK.
Much of the manufacturing was moved to China in 2003, leaving only a skeleton operation in the UK.
Managing director David Suddens said it was the only way to save the firm and the move paid off.
"We had to close half a dozen factories and make a lot of people unemployed," he said.
Martin Church, one of the shop floor workers, said: "If we had not done it we would not be around today.
"I went to the Far East to set up machines and train the people to use them."
New designs have now been introduced and more people, including apprentices, are being employed in Northamptonshire.
Mr Suddens said the turnaround in the company's fortunes and profits were the result of moving production to China and expanding into foreign markets.