Matthew Green fireplace death: Family's anger at 'inadequate fine'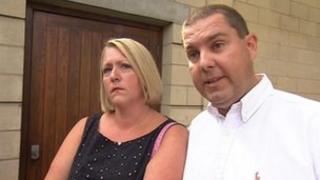 "We were warned that the sentence would be sadly inadequate for how we felt and, effectively, it's only a very small fine."
That was the reaction of David Green whose four-year-old son Matthew was killed in 2005 when the stone surround of their fireplace toppled onto him at their house in Towcester, Northamptonshire.
The stonemason who fitted it, Kristian Childs, 42, was fined £7,500 at Northampton Crown Court this week after pleading guilty to health and safety breaches.
Mr Green said: "We were warned that Mr Childs was a man of limited means.
"Moving forward, the rules have changed and a similar incident now can result in a custodial sentence.
"Obviously we were very disappointed that those rules weren't in place at the time of this incident."
The stone mantelpiece and surround had come away from the wall and the court heard it had been held in place with small patches of mortar, rather than proper metal fixings recommended by the Health & Safety Executive (HSE), which brought the case.
The court also ordered Childs, who traded as KD Childs Stonework of Luton, to pay costs of £2,500.
Gail Green, Matthew's mother, said: "Whether a fine or sentence, nothing would bring Matthew back and he was a very happy young boy - full of life."
The HSE said that for offences committed before 2009, only fines could be imposed, but the Health & Safety (Offences) Act 2008 now allowed the courts to jail offenders for up to two years.