Daventry haulage firm pair jailed over lorry driver's death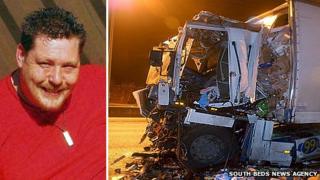 A father and son found guilty of causing the death of one of their haulage firm's drivers, have been jailed.
Stephen Kenyon, 35, died when his lorry crashed into a line of stationary traffic on the M1, on 12 February 2010.
Adrian John McMurray, of Daventry, and son Adrian Paul, of Northampton, were convicted of manslaughter and fraud, at St Albans Crown Court.
The father was jailed for seven years and son for four years.
Adrian John, 54, was jailed for four years for manslaughter and three years for fraud and Adrian Paul, 36, was jailed for two and a half years for the manslaughter and 18 months for the fraud.
Asleep at wheel
The McMurrays, who ran AJ Haulage based in Daventry, Northamptonshire, were also found guilty of failing to discharge an employer's duty.
The jury was told the death was "an accident waiting to happen" as Mr Kenyon, a father-of-four from Milton Keynes who had fallen asleep at the wheel, had been working for more than 19 hours and had been driving for more than 13 of them.
Road haulage legislation states truckers can only drive large commercial lorries for a maximum of 10 hours in a 24-hour period, and then only two days a week.
For the rest of the week, the maximum time they can spend behind the wheel of a lorry is nine hours.
Mr Kenyon was said by friends and family to be very tired and they had noticed he would often fall asleep in a chair.
Judge Andrew Bright QC told the McMurrays: "The excessive hours for which he was driving caused him to be so tired he was a danger to himself and other road users.
"Heavy lorries pose a very real threat to other road users and that threat was substantially increased by the way you ran your haulage business.
"The death of Stephen Kenyon was an accident waiting to happen. Adrian John McMurray and Adrian Paul McMurray you ran the business with scant regard to your legal obligations and cutting every corner to maximise your profits."
Evaded VAT
Prosecutor Charles Miskin QC told the jury the case was one of "gross negligence and manslaughter".
Adrian John McMurray and co-defendant Heather Parkinson, 69, of Parkhill, Dromore, County Down, pleaded guilty to cheating the Inland Revenue of £311,976 between 6 April 2005 and 3 September 2009 and evading £424,248 VAT between 1 February 2005 and 31 July 2009.
The father and son also admitted cheating the PAYE and National Insurance system of £896,050 between 6 April 2005 and 5 April 2010. Ms Parkinson admitted cheating the public revenue and National Insurance of £15,081.76.
Ms Parkinson was sentenced to 27 months.