Far-right archive opened at University of Northampton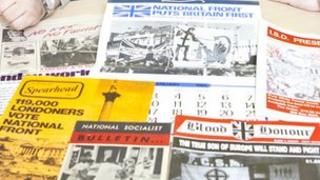 An archive of a collection of UK far-right pamphlets and magazines has been opened in Northamptonshire.
It has been loaned by the anti-fascist magazine Searchlight and includes publications by the National Front.
The university said it will provide resources for historical research into far-right parties.
Dr Paul Jackson, history lecturer, said: "In the current climate, it is probably a good time to rethink the history of ultra-patriotic movements."
The archive includes copies of Searchlight magazine which was first published in the mid-1960s.
The university's School of Social Sciences offers training courses called Far Right Aware.
Dr Jackson said: "Since the Woolwich attack in May [the death of Drummer Lee Rigby], we have a sharp rise in far-right activity.
"The Searchlight Archive represents a major addition to our knowledge on extremist organisations.
"Analysis of this rich resource will allow a much more detailed picture of Britain's post-war far-right activism to emerge."
Gerry Gable, editor of Searchlight, said: "I think it shows how anti-fascists can work together.
"The common goal is to hold back fascism and racism, because far-right groups are still around in one form or another and post-Woolwich there has been an increase in attacks on mosques, Muslim community centres and property."