Corby Highland Gathering hit as council grant cut to £500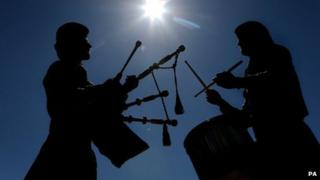 Organisers of one of the largest highland gatherings outside Scotland, held in Northamptonshire, are to keep it going despite a council funding cut.
Corby Borough Council had provided a grant of £3,500 for the Corby Highland Gathering but cut it to £500 this year.
Organiser and Labour councillor Mark Pengelly said he would take out a personal loan to keep the event going.
The council said it could not make a special case as other deserving causes had suffered from similar budget cuts.
Mr Pengelly said the organisers had a small amount in a reserve fund although this was seriously depleted last year when poor weather kept the crowds away.
'Unique to Corby'
The budget cut had threatened the future of the Corby Highland Gathering but Mr Pengelly said they were determined to preserve such an important part of their heritage.
He said the event could cost up to £10,000, with income generated from trade stalls, entry fees, a funfair and sponsorship.
"It's disappointing the council has cut the grant to £500 but we have to live with that and I can understand the reasons," said Mr Pengelly.
"We will do our utmost to keep the annual event going and the good news is that we have had donations of £1,180 in the past few days.
"I would even take out a personal loan to keep the event going.
"The gathering is unique to Corby and a great celebration of our heritage although families from many nationalities and walks of life attend."
The event will take place on 14 July.