Father of Daniel McCullagh 'saddened' by River Nene swimmers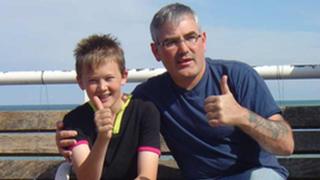 The father of a boy who drowned in a Northamptonshire river last summer says he is "saddened" that young people are still swimming there.
Gabriel McCullagh's son Daniel, who was 15, died after jumping into the River Nene at Woodford Lock on 24 July last year.
On Sunday, two 12-year-olds were pulled out of the water nearby after getting into trouble.
Mr McCullagh said: "Children, especially teenagers, think they are invincible."
The two children swallowed water after entering the river at Denford and were taken to hospital as a precaution, police said.
'Fun with mates'
Speaking almost a year after his son died, Mr McCullagh said he was not surprised that people were still tempted to swim in the river.
"We're adults, we know the dangers," he said.
"If you have any influence over a child who you believe may attempt to swim in a local river, because it's hot or they think it would be fun with their mates, please speak to them now before it's too late.
"You don't want to be in the same position that I'm in."
Andy Sawford, Labour MP for Corby and East Northamptonshire, is campaigning alongside Mr McCullagh for increased safety measures along the River Nene.
"There's improved signage at the site so it is disappointing to hear children are still swimming there, because it isn't safe," Mr Sawford said.
The Environment Agency has added a locked gate to Woodford Lock and also replenished its lifebuoy supply, a spokesperson said.