Northamptonshire Archaeology: Council report says sell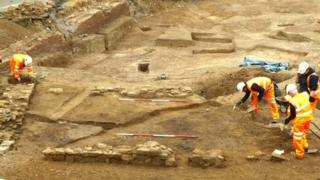 A council archaeology department used widely in the planning process across the UK is to be sold.
Northamptonshire County Council's cabinet has been recommended to sell its archaeology unit to the Museum of London Archaeology (MOLA).
The unit works for developers, highway firms, house builders, quarries, local authorities and private individuals.
Under the current arrangement the county council is responsible for underwriting any losses.
Andre Gonzalez De Savage county council cabinet member, said: "This move has benefits for all as clearly Northamptonshire Archaeology has the potential to flourish through an association with Museum of London Archaeology, and both parties can bring the benefits of their expertise."
Benefits for council
He added: "It also makes sense to the county council as the authority will still be able to benefit from the service, but without any financial risk."
The archaeological unit encompasses desk-based studies, geophysical and landscape surveys, the recording of historic buildings, and all aspects of below-ground investigation, from trial trenches to open areas.
About a third of the work is based in Northamptonshire, the remainder being in adjacent counties or elsewhere in the UK but the county council was responsible for underwriting any losses.
Association with MOLA will enable the unit to compete for work and develop its own profitability, the council said.
Brendan Glynane of the Liberal Democrat opposition said: "This is a good idea and it's what the staff want. They have a lot of historical expertise in demand by other local authorities and organisations outside the county."
He added: "They will be in a more agile position to attract work as a business attached to a prestigious organisation like MOLA."