Doctor Who actor Matt Smith auctions Vauxhall Corsa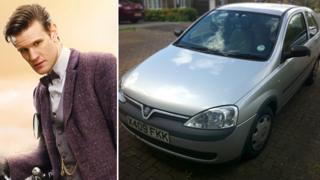 Doctor Who actor Matt Smith has decided to auction his pre-Tardis vehicle - a Vauxhall Corsa he has owned since he was 18 - to help a charity which grants wishes to terminally ill children.
Smith, from Northampton, has donated his car to the Starlight Children's Foundation to auction on eBay.
University of East Anglia graduate Smith, 30, who is an ambassador for the charity, nicknamed the car "The Shed".
The silver-coloured car is parked at his parents' home in Northampton.
'Great little car'
The eBay auction of the car, first registered on 30 November 2000 and with about 60,000 miles on the clock, runs until 18 July.
Smith said: "While I have been travelling the universe in my Tardis, my much-loved Vauxhall Corsa, also known as The Shed, has been parked outside my parents' house. As my first ever car, it has seen lots of adventures, not to mention a fair few mishaps - hence the dents.
"I got the car and then got into the National Youth Theatre - both life changers. I'll be very sad to see it go but I understand my parents want their driveway back.
"I'd love to find a new owner for this great little car, particularly as all the profits will go to Starlight, which is an amazing charity that brightens the lives of seriously and terminally ill children."
Smith, who has announced he is stepping down from his role of Doctor Who, will appear alongside Norfolk actor John Hurt - introduced as The Doctor at the end of the last series - in November's 50th anniversary episode.