Northamptonshire PCC concern over football policing costs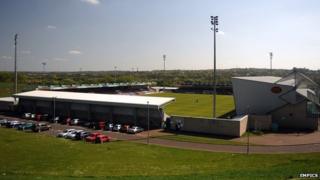 Policing Coventry City football games at Northampton Town's Sixfields Stadium could cost the county's force an extra £100,000 a season, a police commissioner has warned.
The Football League granted permission for the Sky Blues to play home games 34 miles away in Northampton.
Northamptonshire Police and Crime Commissioner (PCC) Adam Simmonds said he had concerns about extra match days.
He said policing the railway station and town centre would add to costs.
The extra total bill is separate from the costs of policing the game in and around the stadium, which are normally funded by the clubs, Mr Simmonds said.
'Challenge for police'
"We worked out that we're looking at at least £100,000," he said.
"We'd obviously want people to come to Northampton and have a good time [and] kick-start our local economy even more.
"The challenge for the police is that some of this is a bit of an unknown quantity. We don't know how many people will come.
"We don't know whether they're going to come by rail or by coach and if anything kicks off… we're not as planned as we'd like to be at this point."
Mr Simmonds is in talks with the the stadium and the local council about costs.
Northampton Town Football Club said it expected the groundshare agreement with Coventry City, which will run for three seasons, to benefit the town.
"We understand the issues that Northampton will now, on average, be staging one game a week rather than one game a fortnight," said a club spokesman.
"But in terms of police resource most of our League Two games are now police free."
"When we were last in League One in 2008-09 we hosted teams at Sixfields such as Leeds, Leicester, Peterborough, Millwall and Milton Keynes and we feel the more people who are attracted to come to Northampton for an event, the better for local businesses and the town of Northampton as a whole."
The move has attracted fierce opposition from Coventry City fans and people connected with the club.