Rushden Lakes could hit plans to extend Northampton's Grosvenor Centre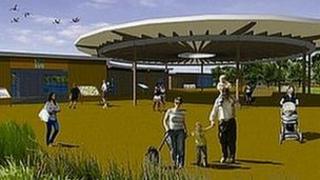 Plans for a £50m shopping development in Northamptonshire will jeopardise the prospects for another retail outlet in Northampton, it has been claimed.
LXB Retail Properties wants to build the Rushden Lakes Retail Park at the former Skew Bridge Country Club site.
But Russell Harris QC, for Legal & General which owns the Grosvenor Centre, said the plans would destroy jobs in Northampton.
So far the plan has received the backing of East Northants Council.
Ian Dove QC, speaking on behalf of the council on the final day of the inquiry, said Rushden Lakes would deliver jobs and investment in services and help regenerate Rushden.
He denied that shops will move from town centres to Rushden Lakes, adding: "These proposals articulate the ambition of the local community to grow and prosper."
Morag Ellis QC, representing Northampton, Kettering and Corby borough councils, said the case was of national importance if Rushden Lakes goes ahead, it would end the long-standing planning policy that town centres come first.
Planning inspector, Harold Stephens, is expected to write his report by October and then make recommendations to the Communities Secretary Eric Pickles who will make the final decision - expected in December.