Northampton's former Royal Mail site may become school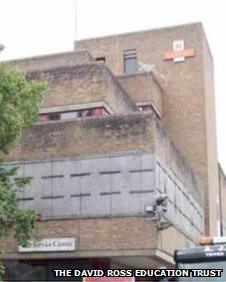 A former Royal Mail sorting office in Northampton could be converted into a 1,200 place secondary school by 2015, an education trust has confirmed.
The David Ross Education Trust said the Barrack Road site was its first choice for a new school in the town.
A spokesman said the building would be ideal for a performing arts specialism because it has "strong" sound-proofing.
Northamptonshire County Council said the town needed an additional 470 secondary school places.
Spokesman Ben Peck said the site, which has been empty since 2003, was the trust's "preferred location - but not our only choice".
"Our initial thought is 1,200 pupils, but that's very much open for consultation," he added.
If the Department for Education approves the trust's application, it plans to redevelop the site instead of knocking it down.
Mr Peck said: "One of the reasons for considering a music and performing arts specialism is the whole building is bomb-proof, which means that the sound-proofing is very strong.
"There are some really nice spaces in the building which people could use for performances."
Catherine Boardman, cabinet member for children and education for the county council, said the council had been focusing on meeting a shortage of primary school places in Northampton.
"Our longer term strategy identifies the need for new secondary school places," she said.
"A successful bid for a new secondary school would not only alleviate that pressure, it would add to the range of choices available to Northampton parents."
The David Ross Education Trust already works with a number of primaries and a secondary school in Northampton.
The trust will submit its application to the Department for Education in September.
It does not yet know how much it would cost to convert the sorting office into a secondary school, but "the money would come from Department for Education," according to Mr Peck.
Royal Mail has not confirmed how much it is hoping to receive for the former sorting office.
Related Internet Links
The BBC is not responsible for the content of external sites.