Wicksteed Park appeal uncovers 'oldest swing' nearby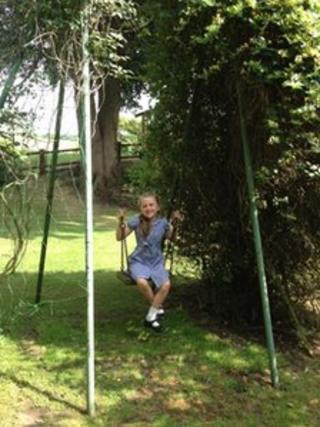 An appeal by a Northamptonshire park to find play equipment made by its founder has discovered what is believed to be the UK's oldest working swing.
Charles Wicksteed invented the modern-day slide and swing and installed them at Wicksteed Park in Kettering before manufacturing and exporting them.
The swing, thought to be a prototype, has been found nearby, outside a house once owned by Wicksteed's relatives.
Great-grandson Oliver Wicksteed said it was in "remarkable condition".
Park trustees released newly-found photos from the 1920s in their search to track down surviving play equipment so they can archive the site's history.
Ian and Debbie Wilkins, who live in part of a converted manor house in Barton Seagrave, saw the appeal online which prompted them to think about the history of their garden swing.
"The way it was constructed made us think it was old," said Mr Wilkins.
"We knew that the old manor house next door was where Charles's daughter Hilda had lived for many years.
"But it was only when we heard about the park's appeal for information that we made the connection and wondered if it was a prototype or part of an early production run."
The 12ft (3.6m) high swing with its thick wooden seat, lack of name plate, and unique ornate red mountings on top of its green frame, indicate it was a pre-production Wicksteed model.
Charles Wicksteed opened his park in 1921 before manufacturing the swings and other playground equipment, which were exported around the world.
The engineer wanted to encourage children to play and families to take up healthy lifestyles.
Oliver Wicksteed, chairman of the Wicksteed Charitable Trust, said: "The manor house was in the family for some considerable time and I can remember talk of the place when I was growing up.
"But when we appealed for information... I never dreamed the search would take us back there.
"It is in remarkable condition. There is some minor wear and tear on the frame but the big, thick wooden seat is as sturdy as ever and the whole thing looks like it could survive another 100 years."
The 147-acre Wicksteed Park now includes one of Europe's biggest free playgrounds, a theme park, lake and campsite.