Varga killing: Disappointment over £10,000 reward response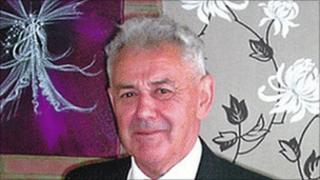 A family said it was disappointed at the response to the offer of a £10,000 reward for information about the murder of a pensioner two years ago.
Charlie Varga, 76, was killed in an axe attack on 27 July 2011 at his home in Wellingborough, Northamptonshire.
CCTV footage shows a visitor going into the Cannon Street house at midday and he is believed to have been the killer.
Rita Groves, Mr Varga's daughter, said the family was struggling to find closure after disappointing appeals.
Hungarian-born Mr Varga was not seen alive after the visitor went into the front door and left unseen through the back door.
The man would have had to walk through Bell Court or Bell Street to leave the scene, police said.
"This man visited Charlie at 12:04 BST and has never been identified," said a force spokesman.
Mr Varga's body was discovered on 30 July.
Mrs Groves said: "It is disappointing that despite our reward and the hard work of the police nobody has ever been convicted of his murder - whilst his death remains unresolved we struggle to find any closure."
Officers have continued searching for several key missing items including the hatchet-like murder weapon and the victim's back door keys plus the clothes and Lonsdale trainers the offender wore.
Det Chief Insp Martin Kinchin said: "Solving this case remains our priority and we continue to work with forensic experts and the Crown Prosecution Service to find the evidence needed to arrest and convict the person responsible.
"Even two years on it is possible these missing items are still lying waiting to be discovered."
A case against a 47-year-old man was dropped by the Crown Prosecution Service who said the prospect of conviction was unlikely, resulting in the case being withdrawn.