Great crested newts relocation prompts Corby Primary Academy restart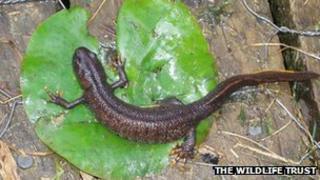 Construction on a new Northamptonshire school is to resume after being delayed by the discovery of rare newts.
Work on the new Corby Primary Academy was halted in October after great crested newts were spotted on the site.
Northamptonshire County Council said the protected amphibians had now been moved to a nearby pond and work would start again next week.
The academy will still open next month, but will be confined to the former Exeter Primary School's junior block.
The new building on the Butland Road site, in Oakley Vale, will be ready for 60 more pupils in September 2014.
Catherine Boardman, cabinet member for children and education, said: "I'm delighted that work can actually begin on site and I'm looking forward to this very important development taking shape.
"A new primary school is very much needed in the Oakley Vale area of Corby to cater for the increase in population."
Great crested newts are Britain's largest newt species and are protected under EU and UK law.