Northamptonshire police and fire share Thrapston building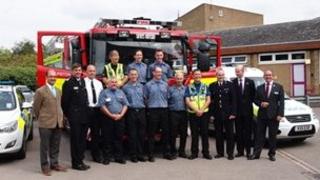 Fire crews and police are now based in the same building in a Northamptonshire town as part of a growing collaboration between the two services.
Officers and support staff have moved into a newly refurbished fire station in Thrapston and their former building has been put up for sale.
Police and Crime Commissioner Adam Simmonds, said: "People want to see emergency services working together."
The move brings operational staff under the same roof for the first time.
Ongoing modernisation
Andre Gonzalez de Savage, county council cabinet member for strategic infrastructure, said having both services in the same place "makes good sense."
He added: "Firefighters and police officers already work closely together and, by operating from the same location, we can build on that collaboration."
Officers from the local safer community team will be based at the fire station in Thrapton High Street, which is used by retained firefighters.
The former police station in Sackville Street is being sold as part of the ongoing modernisation of the force's estate.
Mr Simmonds said: "This is just one of a number of ways we are working for our communities."
Fire service watch manager Mick Witten said it was "a very positive step" and will allow both to "bring added improvements in the way we deliver our services to our local community".