Corby Cube: Extra £600k needed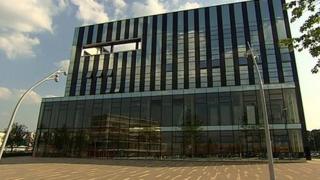 A further £600,000 is needed to complete Corby's controversial Cube civic centre, which has already seen costs rise from £35m to £47m.
The Cube, which houses council offices, a library, theatre and register office, opened in November 2010.
An audit report criticised the project's financial management.
A Corby council report said the extra funding was needed to mend leaking roofs and complete work on possible office space in the building.
The report goes before councillors on 3 September.
Leader of Corby Borough Council Tom Beattie, said: "We have made a lot of progress in bringing the Cube up to the standards we expect.
"There is still an outstanding issue involving leaking in parts of the roof and a temporary wall which we are actively pursuing the building's original designers and contractors to resolve.
"In the meantime, in order to prevent further delays in securing a suitable tenant for the fourth floor we are independently taking measures to make the roof watertight."