Should G K Chesterton be a saint?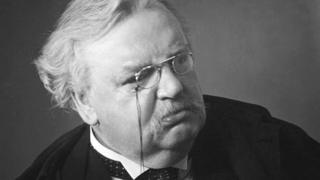 G K Chesterton achieved fame as the author of the Father Brown detective novels but a campaign to make him a saint is now gathering pace - and provoking a backlash.
The writer, whose novels include The Napoleon of Notting Hill and The Man Who Was Thursday, converted to Catholicism in the 1920s.
His writings have been credited with persuading many people - including the writer C S Lewis - to convert to Christianity.
Now an American fan group is lobbying for his elevation to sainthood and claims Pope Francis is interested in his case.
The Bishop of Northampton, Peter Doyle, is appointing a priest to look into Chesterton's credentials. It is the first official step towards the possible canonization of the writer, who lived in Beaconsfield, Buckinghamshire, and died in 1936.
Dale Ahlquist, president of the American Chesterton Society, said the author should be made a saint because he was "a great defender of the Catholic faith and a great example of the Catholic faith".
"He represents a model of lay spirituality," he added.
Mr Ahlquist adds that the writer's oeuvre, including The Orthodoxy - an account of Chesterton's spiritual journey, has brought people, including himself, to the Catholic faith.
And the cause may have friends in high places, said Mr Ahlquist.
"His Holiness, Pope Francis, expressed support for Chesterton's cause when he was the archbishop of Buenos Aires," he said.
"I think he is very much a saint for our time and could draw many people into the church."
The campaign has provoked a backlash from some quarters, with Melanie McDonagh writing an article in the The Spectator headlined Why G K Chesterton shouldn't be made a saint?
She argues that while he should be considered a great writer, his views on Jews outlined in The Problem of Zionism "make him unapt for sainthood".
In the pamphlet, Chesterton argued that Jews cannot be loyal to a country because their higher loyalty was to fellow Jews, Ms McDonagh said. His views, she said were "repugnant".
Columnist, author and television talk show host Michael Coren, who has written books on the author, said the issue of Chesterton's anti-Semitism was complex.
Mr Coren said the author was "extremely anti-Hitler and... not anti-Semitic as he had Jewish friends", but he admitted that some comments he made were "hurtful".
Dr Ian Ker, a Roman Catholic priest and biographer of Chesterton, said: "[The author] was a great inspiration and brought many people to Catholicism".
"I think there are problems as he is not a conventional candidate because he was not outwardly very devout," he said.
Mr Coren agrees, saying: "Chesterton was a great man, but that does not mean he was a saint. I think he would have laughed at the idea of becoming a saint."