Northampton bus depot plan 'to create 150 jobs'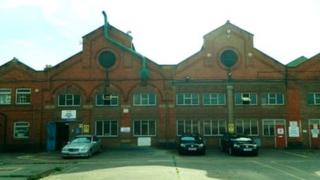 A multimillion-pound deal to redevelop land around an Edwardian tram depot with the creation of up to 150 jobs goes before councillors next week.
Northampton firm Church's Shoes wants to buy the St James depot in the town and nearby land to expand its operations, in a deal brokered by Northampton Borough Council.
The building, which later became a bus depot, is being sold by First Group.
The council is to buy it and the land before selling it on to Church's.
The nearby land, which is part of the local enterprise zone, is currently owned by the Homes and Communities Agency and has been earmarked for expansion of the Church's shoe factory "bringing investment, job creation and growth" said the council.
David Mackintosh, leader of the council, said: "The building has been part of our town's landscape for over a century and the action we are taking will see the site swiftly brought back into use.
"This will not only create jobs, but see investment into a traditional Northampton-based company, which will see more high quality shoes being sold around the world with the 'made in Northampton' mark proudly displayed."
Church's chief executive Stephen Etheridge, said: "It is an exciting time for us, and with our current site at maximum capacity with no room to develop, we have been exploring a number of different options.
"Expanding onto the former First Bus depot would enable us to invest in new operations and facilities creating around 150 new jobs over five years. The depot building has some distinctive elements and every effort will be made to retain these and the general character of the site."
Graham Croucher, secretary of the St James Residents' Association, said: "It's early days, but if they save the building and bring in jobs, our initial feeling is this will be a good thing."
The scheme goes before the council's cabinet committee on 11 September.