Electric Corby completes vehicle charging point network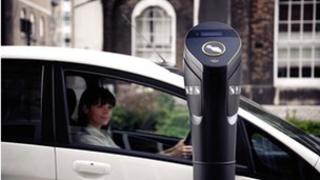 A network of 21 electric vehicle charging points has been completed in a Northamptonshire town.
The network in Corby, funded by European and British government money, is said to be the largest per head of population in Britain.
Nick Bolton from Electric Corby said sales of electric powered vehicles in Britain had reached 1,400 per year.
"Manufacturers are also showing off the latest electric vehicles at Rockingham Circuit this weekend," he said.
Mr Bolton believes that it will take 20 years for electric vehicles to take their place alongside the latest clean energy traditionally powered models or those using hydrogen or hybrid methods.
"A luxury level electric vehicle called the Tesla is outselling Mercedes and BMW models in California.
"It is comparable with the Aston Martin for acceleration and costs £2.50 for 300 miles rather than £150.
"We're showing off the latest models at the British Touring Car event but a Formula E for electric vehicles has been proposed in a year or so," Mr Bolton said.