Dogs sniff out 'smuggled' cigarettes hidden in Northampton shops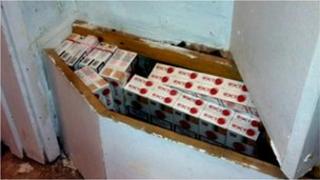 More than 125,000 cigarettes believed to have been smuggled into the country have been found in raids on six shops in Northampton.
Sniffer dogs were used to help find the hidden cigarettes and 200 pouches of tobacco.
Trading standards officers said the goods had probably been smuggled from abroad to avoid import duties and to be sold at low prices.
Northamptonshire County Council said the shop owners would face prosecution.
Trading standards officials have not revealed where the haul was seized from during Friday's raids.