Northampton baby survives three heart attacks and a stroke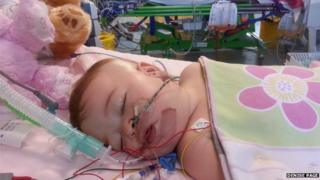 A mother whose baby daughter had three heart attacks and a stroke in the space of a few days says it is a "miracle" that she is making a full recovery.
Willow Page, from Northampton, technically died three times and had bleeding on the brain after contracting a severe form of heart disease.
But after four weeks in hospital, one-year-old Willow was taken off life support and discharged from hospital.
Denise Page said: "It's just amazed the doctors. We're very, very lucky."
Mrs Page, 34, who lives with her husband Iain in Spinney Hill, said the problems started in June when Willow became severely ill.
'Heart muscles'
"For about six months she had a cough which the doctors said was a virus," Mrs Page said.
"But one day we picked Willow up from the nursery and the staff said she was off her food.
"When we put her to bed, she was violently sick."
After hospital scans, Willow was initially diagnosed as having a chest infection.
But later doctors realised she had myocarditis, a viral condition that causes inflammation of the heart muscles.
While in hospital, Willow suffered two heart attacks within a few days. During the second attack, her heart stopped for four and a half minutes, meaning that she was in effect dead.
After spending a few days on a life support machine, Willow had shown signs of recovery.
But 45 minutes after being taken off the machine, Mrs Page said Willow had another heart attack and a stroke.
In the next two days she suffered violent fits and had bleeding on the brain.
However, after a few days back on life support, Willow's heart began to heal.
This time she remained stable and by the end of July she was back at home.
"It is a miracle," Mrs Page said. "The doctors didn't expect her to make it, let alone with her own heart."
Mrs Page said it is thought Willow had developed epilepsy and she expects her to be taking medication for the next few years. But she is confident that no severe brain damage has occurred.
The Page family are now looking to raise £40,000 for a new life support machine to thank the NHS for its support.