Northampton Tanner Street homes flattened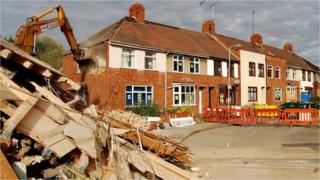 Ten houses sold voluntarily by residents as part of a riverside development have been flattened.
Homes on Tanner Street, Northampton, and a gasholder are making way for offices and business premises.
Resident Val Percival said she was "very sad" to leave but thought the development was progress.
"My mum moved here in 1938 and seven children grew up in that house," Ms Percival said. "There are a lot of happy family memories here."
A patchwork of sites near the town centre and riverside will be home to businesses, a university campus and a refurbished rail station.
Peter Mawson, chief executive of the West Northamptonshire Development Corporation (WNDC), said: "This is one part of a very large regeneration programme.
"These demolition works signal the start of a new beginning for Northampton's waterside.
"We expect to have a development agreement in place by early next year."
The brownfield regeneration at St Peter's Waterside has six linked development project sites along the River Nene, from Sixfields to Nunn Mills.
Much of it is on land owned by WNDC and National Grid.