Hospital death: Mike Martin died after '13-hour wait'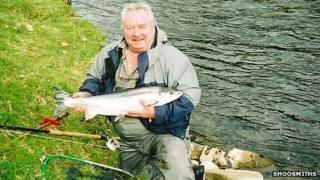 A man died shortly after being taken in for surgery following a 13-hour wait in hospital with severe abdominal pain, an inquest has heard.
Mike Martin, 63, died at Northampton General Hospital in February 2012.
The inquest at County Hall was told an ambulance took Mr Martin to A&E at 03:00 GMT, but it took five hours for him to be seen by a doctor.
He suffered a haemorrhage and died two and a half hours after being called into surgery at 16:00 GMT.
Surgery 'recommended'
The hearing was told Mr Martin, of Parklands, Northampton, was given paracetamol by a nurse an hour after he was admitted but was in such pain he was unable to lie down.
Despite his condition he was not examined by a doctor until 08:00 GMT.
It was then that the A&E registrar diagnosed him as possibly suffering from a strangulated hernia and recommended urgent surgery, it heard.
But Mr Martin died during the afternoon while still awaiting an operation.
The inquest is due to end on Thursday.