Wellingborough Cawleys fire: 'Stay indoors' warning remains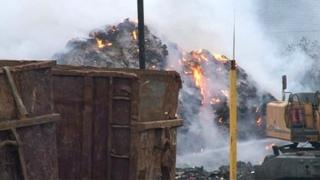 People living near a household waste fire that began over a week ago are still being advised to stay indoors where possible due to harmful smoke.
It started at the Cawleys waste site on Nielson Road, Wellingborough, Northamptonshire, last Wednesday.
Since then, the wind has barely changed direction, meaning windows of homes and businesses as far away as Great Harrowden have had to remain closed.
Crews said it was expected to burn until Friday.
David Haynes, environmental protection manager at Wellingborough Borough Council, said: "All fires can potentially be irritants to people, so essentially the advice is to stay out of the smoke if possible and close doors and windows."
'Burn itself out'
The blaze began just before 07:00 BST on 25 September.
Since then, 18,000 litres of water have been poured on it every day to try and put it out.
The fire service said chemicals in the smoke could worsen existing health problems like asthma, so people living nearby should carry their inhalers with them.
If the smoke is also causing respiratory symptoms or irritating the skin and eyes, people are being told to seek medical advice.
An investigation into the cause of the fire will be carried out once it has been extinguished.