Northampton's Delapre Abbey restoration wins £3.6m grant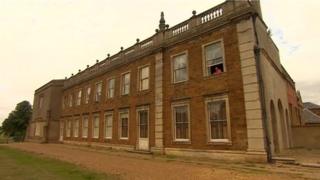 A project to restore a 12th Century abbey in Northampton has been awarded £3.6m from the Heritage Lottery Fund.
Delapre Abbey, established as a Cluniac Nunnery in 1145, will see refurbishment of the main building and restoration of the site's 18th Century stable block.
Northampton Borough Council will provide match-funding for the heritage project, with an investment of £1.34m.
The balance will be funded from trusts, donations, a public appeal and the work of volunteers.
David Mackintosh, leader of Northampton Borough Council, said: "The building is unique and part of our town's rich heritage so it is important we invest in protecting and developing this asset for future generations to enjoy.
"Our successful bid has secured the funding to transform the abbey and its surroundings, improving this key heritage site for Northampton and the wider community."
'Real boost'
The abbey was built by the son of Simon de Senlis, 2nd Earl of Northampton.
After her death in 1290, Queen Eleanor's body was taken to the abbey for the night, while en-route to Westminster.
In 1940, the war office commandeered the premises and from 1957 to 1992 the site was home to the Northampton record office, records the Friends of Delapre Abbey.
Bill Wright, chair of the Delapre Abbey Preservation Trust, added the grant is a "real boost" to the work being done on the site, near Far Cotton.
"Over a number of years many people have been working hard to preserve and restore the abbey, and the progress we have made so far has been thanks to their efforts," he said.
"The abbey is a much loved part of Northampton and when refurbished will become an important regional attraction."