Cosworth Northampton to create direct 70 jobs and 200 for suppliers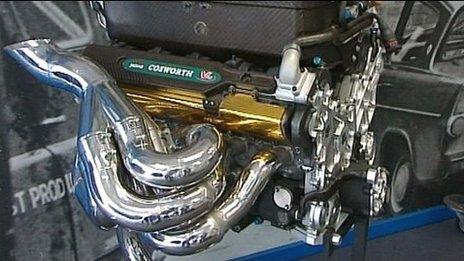 Cosworth Engineering is planning to build a new factory in Northampton, creating about 70 direct jobs and up to 200 for suppliers.
The firm said it had secured a contract to make engine components for an unnamed "performance vehicle" builder.
Chief executive Hal Reisiger said it was an expansion for the company that would come on stream in June 2014.
"We are expanding our capacity into component manufacture and engine assembly," he said.
An announcement with further details of the development, including its value, is expected in November.
Mr Reisiger said the move showed the company's "future commitment" to Northampton and was a new avenue of growth for Cosworth.
He said the firm was "fortunate to have earned a contract" and it was now targeting more, similar deals with "original equipment manufacturers".
"We are currently evaluating three locations all in Northampton," he added.
The company, which is based in Northamptonshire, also has a site in Cambridge.
David Mackintosh, leader of Northampton Borough Council, said the announcement had been made at a Northampton Alive event on Friday.
"The audience heard how Cosworth will be investing in new manufacturing facilities and creating jobs," he said.
"This is another positive announcement for our successful Enterprise Zone.
"We are seeing new businesses investing in Northampton, and our established business community is expanding."
Related Internet Links
The BBC is not responsible for the content of external sites.