Northampton's Greyfriars bus station demolition to cost £4m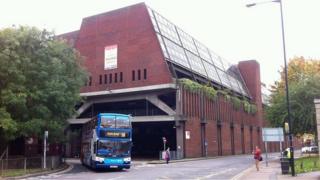 Demolishing Northampton's bus station as part of a plan to redevelop the town centre will cost £4m, a council said.
The work to dismantle Greyfriars station will begin in March after a new £7m interchange opens at North Gate.
Northampton Borough Council said the demolition would open up an important town centre site for redevelopment.
The work is expected to take 18 months to complete and will also require knocking down a large car park and offices.
Demolition would also enable the possible expansion of the nearby Grosvenor Shopping Centre, which the council is discussing with its owner Legal & General.
The council said refurbishing the Greyfriars, which costs £500,000 a year to run, would cost £30m.
Fixtures and fittings have already been stripped from the former office complex and parts of the overgrown roof garden have been cut down.
Northampton Borough Council leader, David Mackintosh, said: "Greyfriars is beyond repair.
"It has always been expensive to run and its demolition not only makes sense financially, it will also open up the site for further retail or associated development, breathing new life into this under-used area of the town."