Northampton General Hospital midwife-led maternity unit opens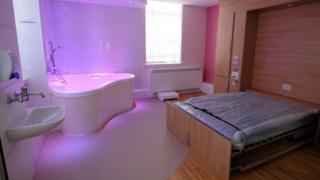 Northamptonshire's first midwife-led maternity unit has opened as part of a £480,000 project.
The four-room Barrett Birth Centre at Northampton General Hospital includes three birthing pools, kitchenettes and en-suite bathrooms.
The hospital said it provides an alternative for women who do not want home births and do not require consultant-led care.
It is predicted about 1,000 babies will be born in the new centre each year.
Anne Thomas, head of midwifery at the hospital, said: "The value of caring for women in a conducive environment is known to be key to a positive birth experience - be that in an obstetric labour ward, a birth centre or at home."
Sean O'Sullivan, head of policy at the Royal College of Midwives, said: "It will allow hospitals to focus on giving care to the women who need specialist care while birth centres can provide care to women who are likely to have a straightforward pregnancy.
"That's good for the women and it's also good for the health service which can take some of the pressure off the hospital."