'Insomnia road': Northampton residents win rumble strip battle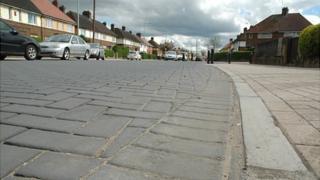 Residents who complained that a rumble strip outside their homes made cars sound like "planes taking off" have won a three-year battle to remove it.
Gladstone Road in Northampton was dubbed "insomnia road" after the quarter of a mile speed reduction strip caused people to lose sleep.
Northamptonshire county councillor Gareth Eales said tests showed the strip had not reduced speeds.
The strip is expected to be removed in May.
The cobbled road was constructed in 2011 in a bid to curb speeding drivers, with the speed limit also reduced to 20mph.
'Incredibly pleased'
However, independent test results that were presented to the Spencer Dallington Residents Association on Thursday showed speeds had not fallen, and in one section had actually increased.
Mr Eales, Labour county councillor for Spencer ward who helped the residents in their campaign, said the director of highways, David Farquhar, agreed the strip should be removed and consultation would take place as to when it would occur.
Mr Eales said: "We've campaigned for three years and put in a lot of hard work and it's finally paid off.
"We're incredibly pleased and finally feel that justice has been carried out."
He added it is not yet known what other speed enforcement measures, if any, would be put in place on the road.
A county council spokeswoman said the road would change to a "standard surfacing material" to combat the noise.