Corby's Solway Foods job cuts: Crisis meeting for workers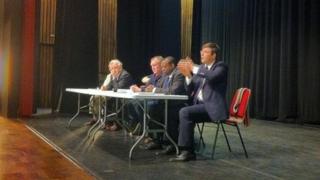 Workers threatened with redundancy from a food processors in Northamptonshire have held a crisis meeting as more than 560 jobs look set to go.
The owners of Solway Foods, which packs salads for supermarkets, announced plans on Thursday to cut nearly two-thirds of its workforce in Corby.
The company, the second biggest employer in the town, said it was now inviting voluntary redundancies.
About 100 workers attended the meeting at the town's civic centre.
A worker who attended the meeting, but did not wish to be named, told the BBC he felt the company "had declined" in the last couple of years.
He said: "It says down in the council office they've offered the company a place to go to keep the jobs in Corby but they are not interested. What does that tell you? I think the whole place is going to go... it's frightening, very frightening."
A spokesman for Solway Foods, said in a statement: "No firm decisions about the future of the site have been made."
However, he added the site was "unviable" and there was "a risk that the site could close".
Ronnie Draper, general secretary of the Bakers, Food and Allied Workers Union, which represents about 500 of the 900 workers at the plant, said the news was "a massive blow to the town".
A taskforce, including Corby's Labour MP Andy Sawford, is looking to save as many jobs as possible and support those affected by redundancies. They will be meeting on Monday.