Wellingborough black bin bag checks 'not spying'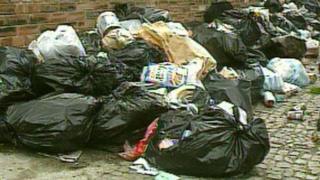 Checking for recyclable material in people's black bin bags in Northamptonshire is not a spying mission, a council has said.
Wellingborough Council is to monitor the contents of bags left alongside bins in Minerva Way, which it described as a "hotspot" for extra waste.
"We'll give the bags a cursory glance, then offer recycling advice if we can identify the owner," a spokesman said.
"This is about assessing the extent of the problem and cutting landfill tax."
The pilot project was a "softly, softly" approach to steer residents towards recycling more, the spokesman said.
'No enforcement action'
Staff from Wellingborough Norse, the rubbish collection contractor, will check the bags' contents ahead of the usual refuse collection service.
"It's not as if they are going to be up to their elbows wading through rubbish looking for a cornflake box, it'll be a cursory glance, and where possible they will then offer advice about how better to dispose of some items," the spokesman said.
"It's about raising awareness, not telling people off, or taking enforcement action."
Peter Morrall, chairman of the council's community committee, said: "Landfill tax alone is £80 per tonne, not including disposal charge, and this goes up every year.
"This is taxpayers' money and it could be much better spent."
Although it is council policy not to collect bags left alongside the bins, Mr Morrall said if they did not do so, the bags could split and other council workers would then have to clear up the spilled contents.
If successful the pilot could be extended across the town.