Northamptonshire Police worker breached data law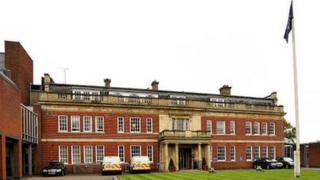 A woman has admitted using police systems to access information on her ex-partner while employed by the Northamptonshire force.
Julie Crust, 42, of Northfield Road, Northampton, admitted six counts of breaching data protection laws at Northampton Magistrates' Court.
The court heard she was employed as an administrative worker when the offences took place.
Crust was ordered to pay £200 in fines and £105 costs.
The court heard she had had access to a number of different data systems used by the police.
'Nosiness and foolishness'
In September 2011 she accessed the voter register and the police control data to try and get information about her former partner.
She also accessed the police log of 999 calls to find out more about a burglary at one of her friend's homes.
But because she had no work connection with the case she should not have been looking at it.
Her breaches of data protection law were brought to the attention of the police and there was an investigation in August 2013.
She resigned in January this year.
Crust's solicitor James Bruce said his client had acted out of a combination of nosiness and foolishness.
He said she suffers from depression and is now out of work.
Following the court case, a Northamptonshire Police spokesman said: "We trust our staff to use the force computer systems appropriately, solely for legitimate policing purposes.
"Unfortunately, there are very rare occasions like this when members of staff breach legislation, and the force will take robust action against those who do."