King John Middle School: Thrapston protest held over education plans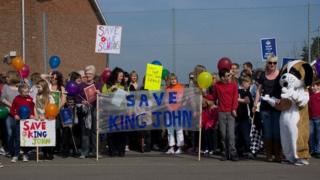 Parents have led a protest march in Northamptonshire over a school threatened with closure under council plans to reorganise the education system in the north east of the county.
Campaigners fear the King John Middle School in Thrapston will close as part of plans to move from three-tier to two-tier schooling.
More than 300 people took part in the march on Saturday.
Northamptonshire County Council is due to decide on the shake-up in April.
The county council is consulting to replace the existing system of lower, middle and upper schools - known as the three-tier system - with a system of primary and secondary schools, known as the two-tier system.
Susie Woods, from the King John School support group, said: "This isn't just about our school, it could affect a whole cluster from village schools around.
"We have no problem with two-tier education, but we've provided evidence the current three-tier system works as it is and the closure of King John's could be catastrophic at a time when the town is growing."
In its proposals the council said the move was to "address a number of challenges" facing its schools, including their "financial viability" as schools in the cluster were "experiencing falling pupil numbers".
Ms Woods added: "The show of support we've had has been overwhelming, it's quite emotional.
"The council has said they will listen to us, we can just hope they actually do."