Northamptonshire blazing car murder: Families claim links
By Laura Devlin
BBC News, East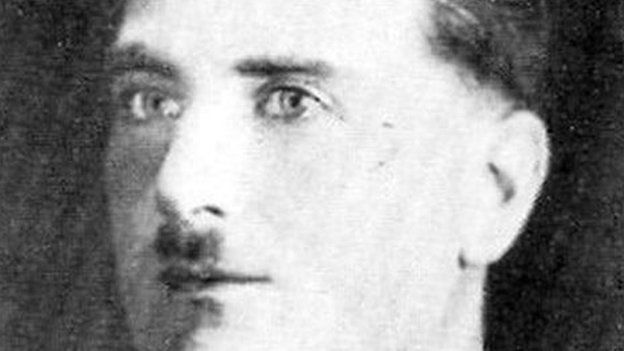 Scientists who found a DNA profile of an unknown murder victim from 1930 have heard from more than 10 people who claim he could have been a relative.
An unidentified man was burned to death in what became known as the "blazing car murder" in Northamptonshire. His killer Alfred Rouse was hanged.
Last year, a DNA profile for the victim was extracted from archived material.
It did not prove a match to a suspected victim's descendants, but the work sparked responses from other families.
The family of William Briggs had been troubled for more than 80 years by fears that the 23-year-old factory worker had been killed by Rouse.
He disappeared en route to a doctor's appointment in north-west London in 1930, and was never seen again.
"Philanderer" Rouse, who may not have known the victim's identity, was having money problems and wanted to fake his own death.
He hit the man over the head, placed him in his Morris Minor and set it alight in the village of Hardingstone.
He fled to Cardiff but was later convicted of murder and hanged at Bedford Jail.
Mr Briggs' great-great niece recently took up the case with police, which led to the involvement of the University of Leicester.
Dr John Bond, senior lecturer in forensic science, and criminology lecturer Dr Lisa Smith searched the Rouse archive and found tissues from the victim's lung and prostate had been stored on slides.
They were extracted by scientists at Northumbria University, who were able to find a single, uncontaminated male DNA profile.
While it did not provide a link to the Briggs family, the team described the scientific breakthrough as "fantastic" and are hopeful the victim could still be identified.
Several families whose "blazing car" suspicions have passed from generation to generation have got in touch with the university since its Briggs work featured on BBC's The One Show and the BBC News website
Dr Bond and Dr Smith are now sifting through details of missing men who could have been Rouse's victim, along with a mound of family trees and photographs.
They are yet to decide which claims warrant further investigation, including the possibility of taking cheek tissue samples for DNA profiling.
"I've had some very interesting conversations with families and it would be wonderful to be able to offer assistance to them through further DNA testing wherever possible," said Dr Smith.
"We are hopeful that we may one day be able to identify this individual and bring some closure to this case."
Dr Bond said: "There is still the possibility of identifying the victim if other families with a relative who went missing around November 1930 can be traced.
"We are really pleased with the response."
Related Internet Links
The BBC is not responsible for the content of external sites.