Wellingborough industrial estate fire continues to burn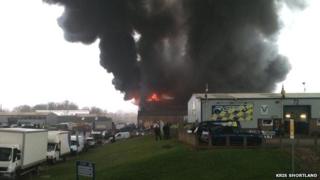 A severe fire at a Northamptonshire industrial estate that is emitting "hazardous" smoke is expected to burn for some days, fire crews said.
The blaze at Environmental Storage Solutions on the Leyland Trading Estate, Wellingborough, was tackled by 14 fire crews at its height.
Crews have since been scaled down to two, but nearby residents are still being advised to shut their windows.
Some road closures are also still in place. No-one has been injured.
The fire broke out in a factory on Irthlingborough Road, that recycles refrigeration units, shortly before 08:30 BST on Friday.
The fire is expected to continue burning over the weekend.
Mark Ainge, from Northamptonshire Fire Service, said: "It's going to some time to extinguish the fire."
Terry Bowkett, who works at a neighbouring industrial estate, said: "I was driving in when I saw what looked like a huge dark cloud, then when I got closer I realised it was a fire.
"At first there were no flames, just a mass of smoke. When the flames started, they were about 150ft high."
A spokesman for Public Health England said: "Residents in areas affected by the smoke should stay indoors, keep their doors and windows closed, and... motorists who have to travel through the smoke should keep windows closed."
Northamptonshire Police have shut the Senwick Road junction with Irthlingborough Road to all traffic in the direction of Irthlingborough and the Leyland estate.
The Sidegate Lane junction with Irthlingborough Road is also closed in the direction of Wellingborough.
Chief fire officer Martyn Emberson said: "Although there is no imminent risk to life, we expect this fire to continue for a number of days and to produce significant amounts of smoke.
"Current advice suggests that there are limited risks to health and we will continue to monitor air quality and update the community as required."
An investigation into the cause of the fire is under way.